We're All In This Together... Building A Badass B2B Community: The Truly Social Blog
By Hunter MacKinnon, Jr. Strategist
We've all heard about/seen pictures of/witnessed Salesforce's infamous Dreamforce conference, where hundreds and thousands of users, clients, and employees gather from around the globe and party in the name of the CRM platform. Many companies have these summits and conferences that create a lustful sense of "I want to go there" even if you have never (and probably will never) be involved in their business. But where does this sense of fervent almost cult-like following come from? I asked Stef Grieser from Unbounce, a company that creates landing pages for businesses and hosts an annual Call To Action summit for digital marketers in Vancouver, and Andrea Saez from ProdPad, a product management software company that was borne from the Mind the Product and Product Tank communities and hosts a very popular Slack community for its users.
I interviewed Stef and Andrea with some questions about how they built their badass B2B communities, and boy did they deliver! I started with the essentials though, and that's exactly what happens before the legions of fans of your business.
Clearly, it doesn't hurt to have an awesome product worth gathering around. If your product is clunky, expensive, frustrating, and more of an add-on than something a user would find essential to their business, this is going to be an uphill battle.
So once you've developed this awesome, business-changing product what happens next? "You could go and use our software and not talk to a human at all! So having that community, having that content really makes it a bit more human. And then also making it an in-person event makes it that much more human because it's in-person connections.", Stef said that the Unbounce team found that their software was in need of a human touch. Fostering a good relationship with your current customers is essential. Berating them with endless Google surveys or auto-generated newsletters isn't going to cut it. We're talking the kind of relationship where they might have called your support team in a panic, and you stayed on the phone until the problem is resolved, even if it meant working through the evening or weekends. That's a real connection, and something a user will remember.
Andrea said, "So I already knew that we had customers that engaged with us a lot through Twitter or through Facebook or sending us feedback or would come up to us at random events… and I thought there's definitely an opportunity here". So you've got a personal connection: this is the key to getting people to show up for your brand. In business, as in many worlds, creating a connection - in this case, it's often helping someone be better or more successful at their job - is essential to creating returning customers and that's where loyalty blooms. Brand affinity is developed next, and this reaches beyond your active users. In many situations, content that comes from those connections you have with users ("I had a talk with a customer and this is what I learned is a concern for them - maybe it's a concern for you too"), is shared with customers and their networks online. Putting this into a solid place - and I would dearly hope it's your website - where people can return to it, interact with it, ask more questions about what is said is exactly how a community begins. Create more of this. Rinse, repeat.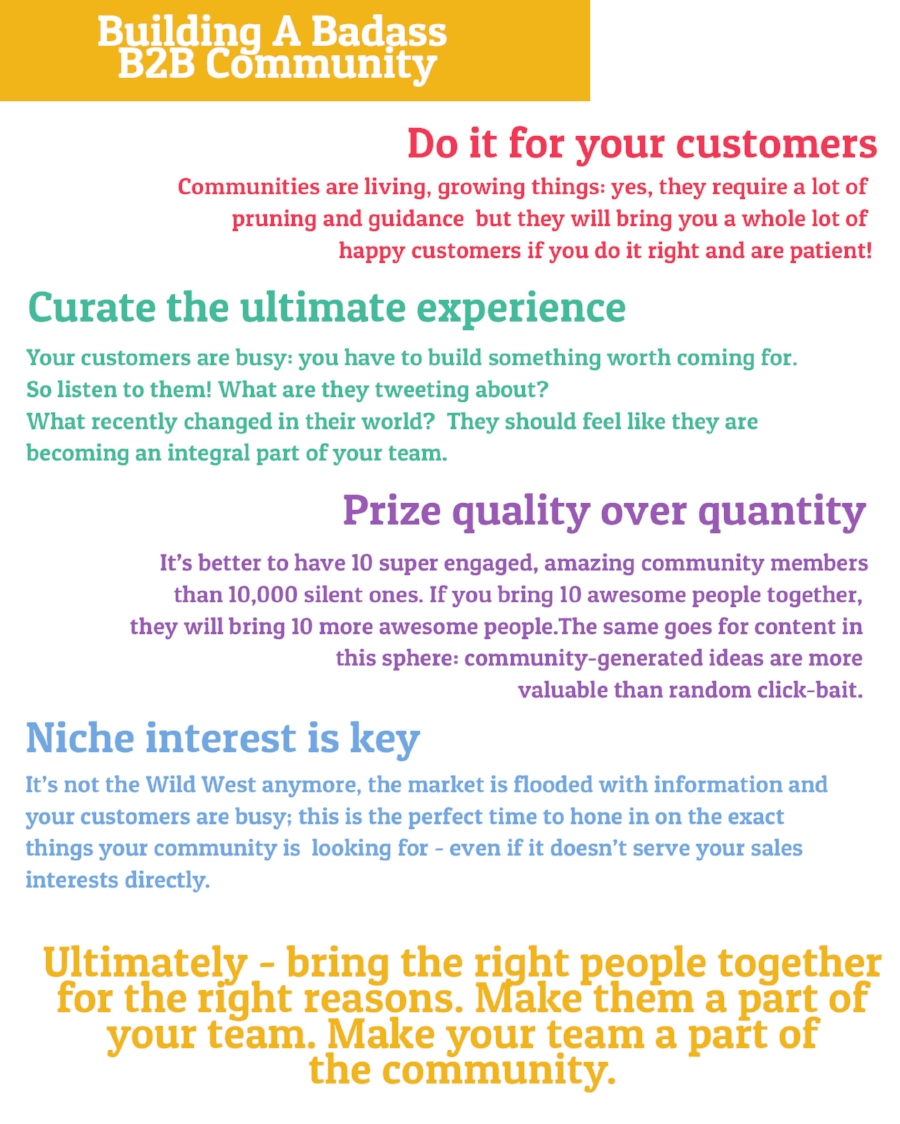 What happens after that? Well, you can found your community and watch it bloom, expand it and continue to curate it. "When I first started wanting to do a community I started with a forum… and it flopped. It was really bad, it didn't work out." said Andrea, "I have several theories as to why it didn't work, but the main reason is that we put too much pressure on the customer to engage with us, as opposed to us just being available on a more accessible medium". "But I still had it in the back of my mind that there's something that we could do to close that gap between ourselves and our customers. So then I kind of played around with the idea of Slack for a few months before I went ahead and said 'Okay let's give this a try'". Andrea and the team at ProdPad have been developing their community on a Slack channel exclusive to their customers, where the conversations have grown from updates on the product and team to include interests of their customers like book recommendations and personal updates!
Stef and the team at Unbounce took a different approach and began to tour with Unbounce Meet Ups! "We had a really great community and we had really strong content. We had people that cared about us, and then also our tool and genuine conversation. And then as that was quite strong, I remember that our CEO went to MozCon and went there and went to an event. Somehow it was very much on my radar. I had also talked to somebody at Zendesk, they were like the head of Global Marketing… and at that time she was doing events. And I just thought 'Wow, this is taking the next step.' It's taking the next step, and it's taking our content and our community that are very much online, offline." Shortly after touring a few cities with small hosted meetups with their customers, they created the Call To Action summit for digital marketers in Vancouver. "The thought behind it is: Unbounce Meetups is gonna allow us - our customers and our community - to learn how other marketers are marketing online, in real life. It's kind of like customers teaching other customers, marketers teaching other marketers."
"Putting our customers on a panel allows them to talk about what they do, and their industry, and how they do it. And how they use Unbounce to do it! At that time we didn't even have a sales team… we only got a sales team like two years ago. It was very much like our customers did the talking, our customers did the selling, but in this very genuine, authentic way", said Stef of the early days of CTA and the Unbounce Meetups. Since then, CTA has grown with the Unbounce product over the last 3 years.
Whichever route you take to grow and maintain your badass B2B community, you'll want to follow these tips from Stef and Andrea:
"Make it about bringing the right people together, versus just trying to carry all the weight on your shoulders." Stef

"It takes a village","It has to really be everybody, it can't just be one person, it can't just be "The Community Person, that's constantly in there. It has to be different people from the company, it has to be your customers." Stef

"You know, some people start up with 'I hope this isn't a stupid question', and of course there's no such thing as a stupid question here, you know, we're here to help that's the whole point!" Andrea

"You can still have a dedicated place for a community, but community is still how you engage with your customers, and that engagement can happen in any variety of ways." Andrea