Brand Awareness: Barista Coffee Liqueur
In late August, Mondia Alliance, a Canadian importer, distributor and marketer of prestigious wine and spirits brands, reached out to us about Barista Coffee Liqueur, a brand they wanted to raise awareness for in the Ontario market.
The product itself is delicious (we made sure before we took them on!), a rich Kona coffee flavoured, rum-based liqueur with chocolate undertones. It was lighter and more drinkable than the coffee liqueurs that we already knew and the fact that it has half the sugar was a big bonus. We had no doubt that anyone who loves coffee and a tasty martini would switch to Barista in a heartbeat.
The big issue we faced was that they had very little time and very little budget.
So, we set out to create a strategy that would help them grow brand awareness in Ontario by finding their best customer and knowing how to get their attention.
The Research
Our research into the market found that people who love coffee and cocktails are also addicted to "chasing the 'gram" - meaning: seeking out Instagrammable moments. This is particularly emphasized in the Toronto and GTA (Greater Toronto Area). As we explored deeper and deeper into the Toronto food + beverage culture, we were floored by the connectedness of this group as well as how many of them follow the same patterns.
[to note, the images in this post are taken from a MUCH larger report - 113 pages - as a sample of the data story we told]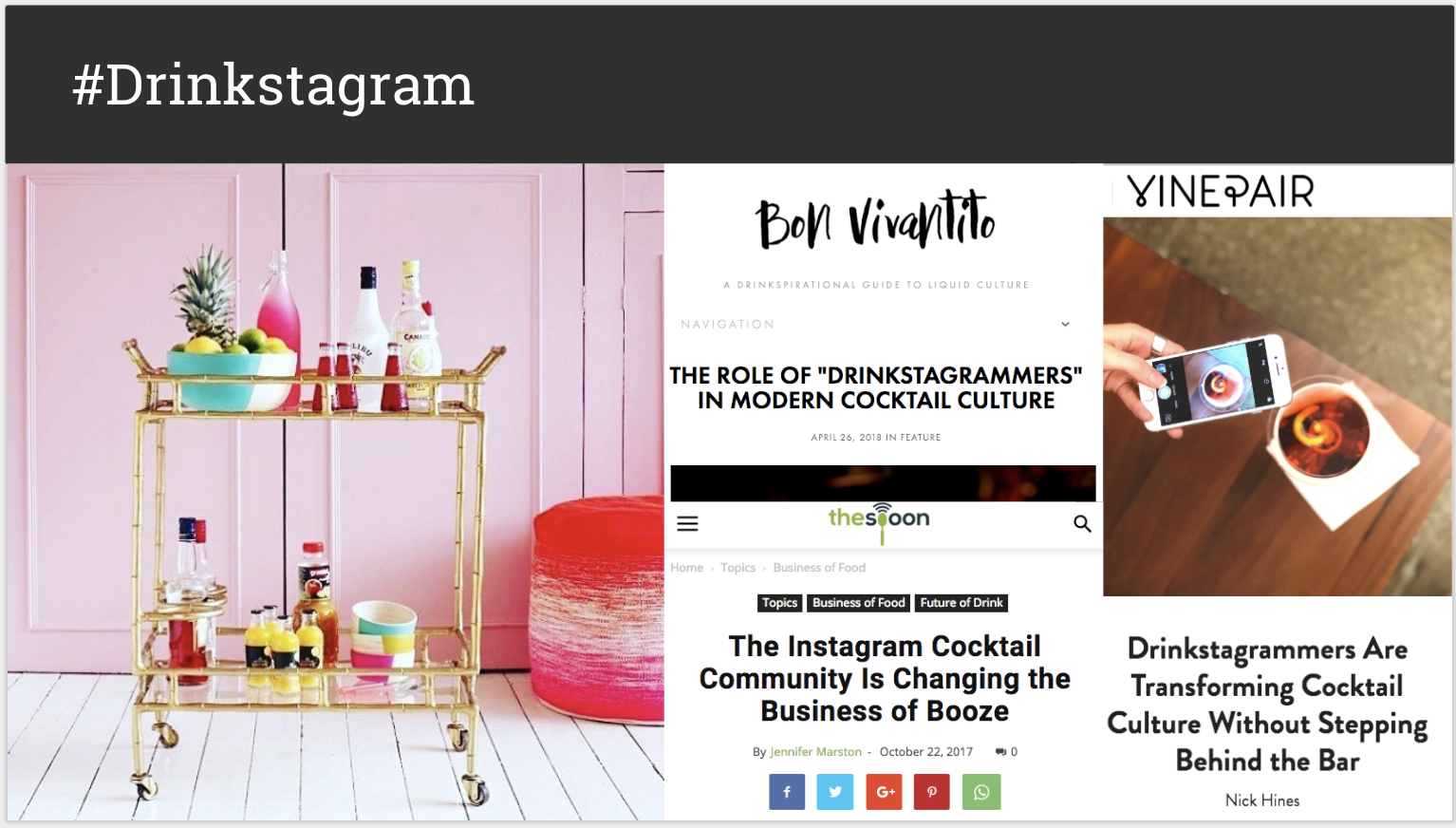 Our assessment was that tapping into this group with the right "instagrammable activations" would go a long way to spreading word-of-mouth about Barista Liqueur.
The Strategy
Now that we knew who we were talking to, where they were hanging out and what motivated them, we knew that the strategy had to include:
Beautiful, inspiring content - mostly on Instagram - enough to win credibility with this very aesthetic-focused audience

Instagrammable activations - one of the KPIs was to drive people in store to try Barista. As our client called it: "liquid on lips." But we also knew that a call to go to the LCBO (Ontario's regulate liquor stores) wasn't going to be enough for this very busy crowd. We needed to create something that made it worth their time.
So, we focused on speaking to them in the language they understand: gorgeous, hip visuals, and creating a fun reason for them to come out and try: working with celebrity barista, Barista Brian, whose latte art brings the 'grammers from miles around: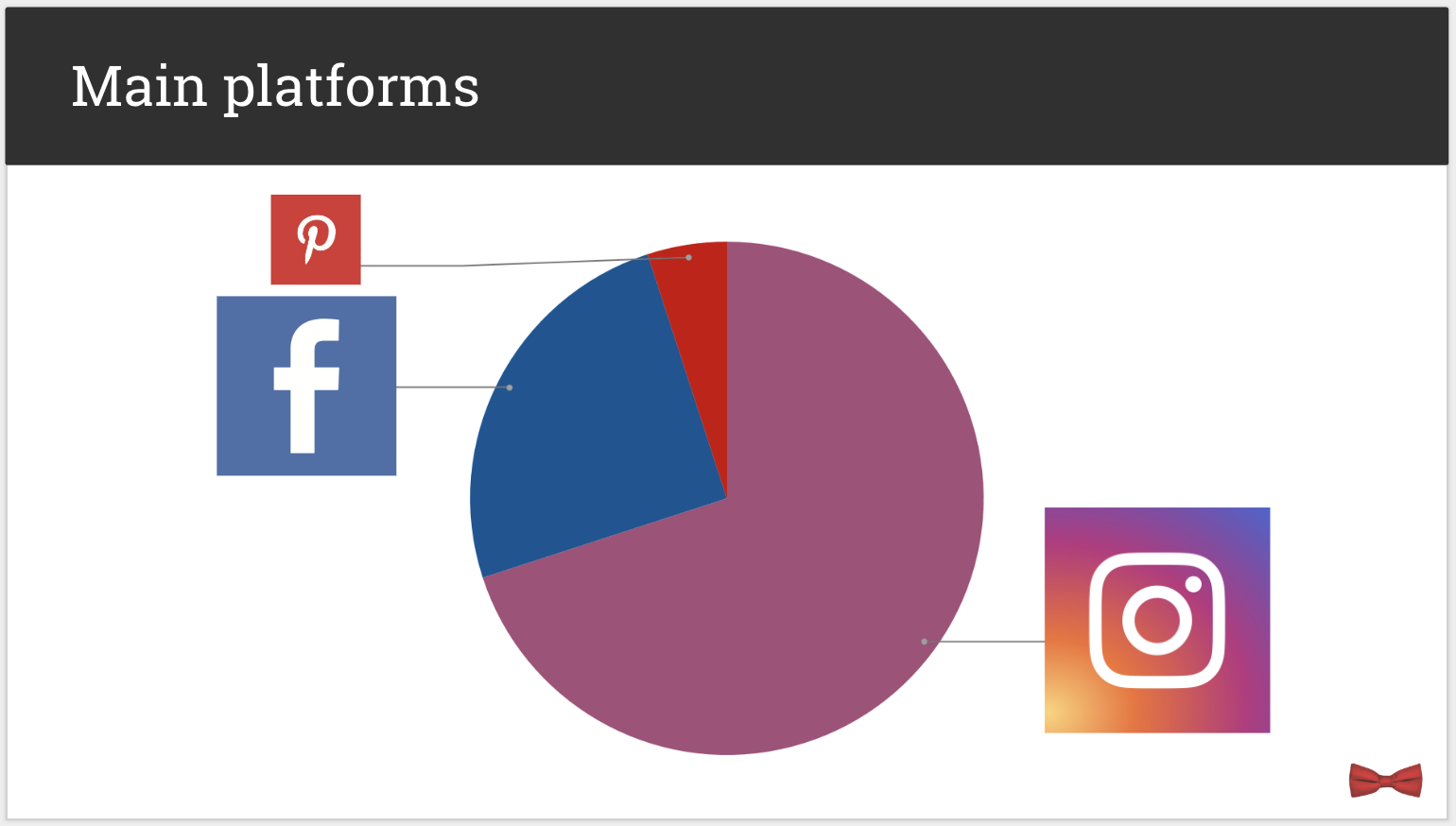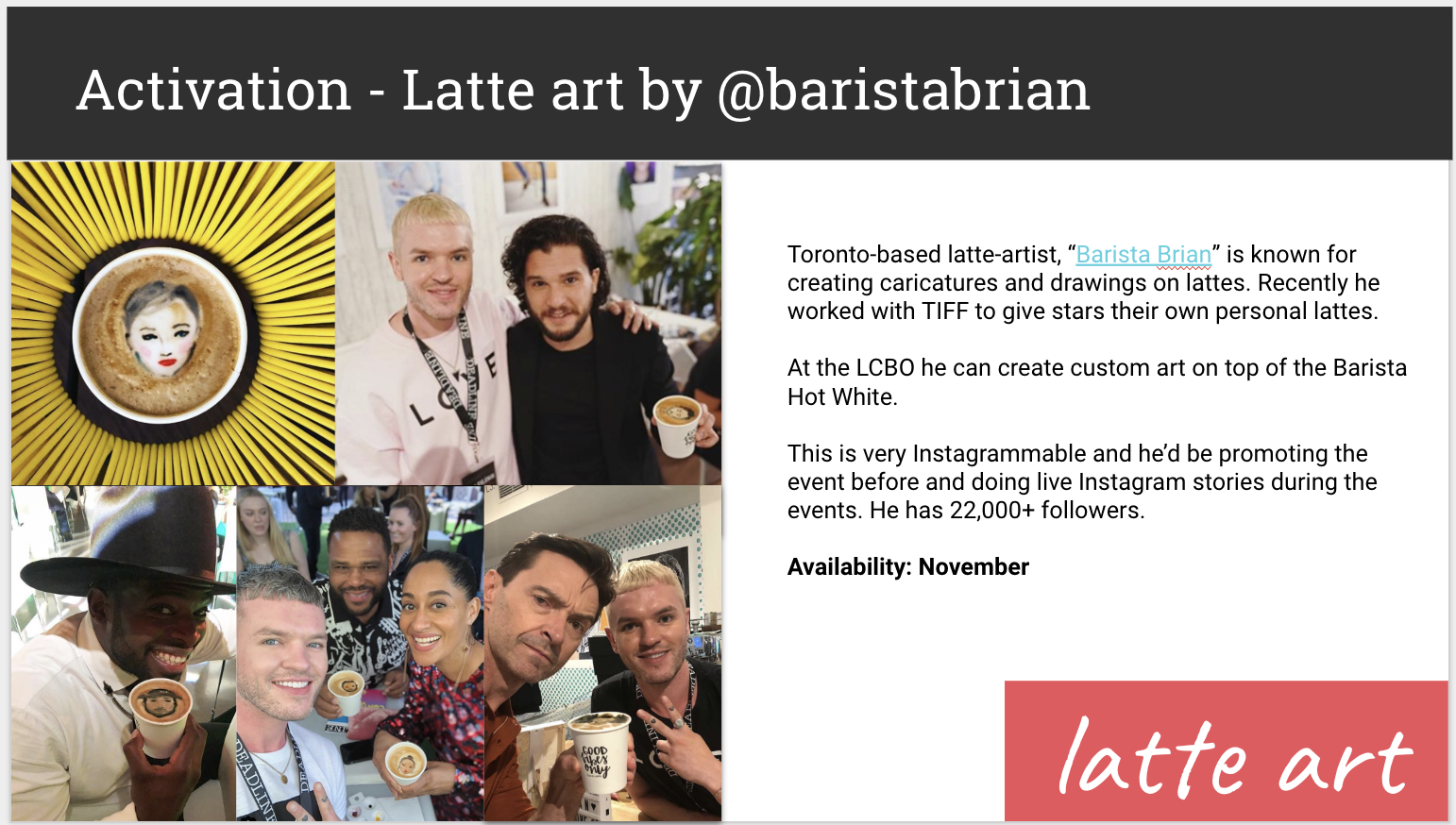 By focusing most of our efforts on one platform and a specific audience with specific tastes, we could make the money go a LOT further for the ads. By promoting the tasting and latte art events in and around the stores, the engagement rates are through the roof and cost per acquisition is incredibly low (under 0.05).
The events themselves are a big hit, with lots of people signing up, coming by and taking photos of their latte art. Barista Brian has been wonderful to work with and is a great ambassador for the brand (he already had the name Barista Brian, btw! How perfect is that?!).
The results of the 2 month implementation were incredible and they exceeded the client's (and even our) expectations):
Impressions: 6,073,410 (goal was 1.5 million)

Engagements: 321,468 (goal was 5,000)

Product sold: ~2,100 (though it fell short of our own goal of 3,200, there were many circumstances out of our control - hard to track sales…we would aim to adjust in a longer engagement)
We were able to stretch their budget by focusing in on their best customer (we're also doing some experimentation with the wonderful Amateur Mixologists identified in the report - such as Monica Carbonell of Liquid Culture, Brenton Mowforth and Sarah Kwan of Cheers to Happy Hour, and Brodie Vissers of The Nomad Brody (coffee consultant) - but mostly as a part of the community building for future growth).